Best smartwatch for email notifications You Should Know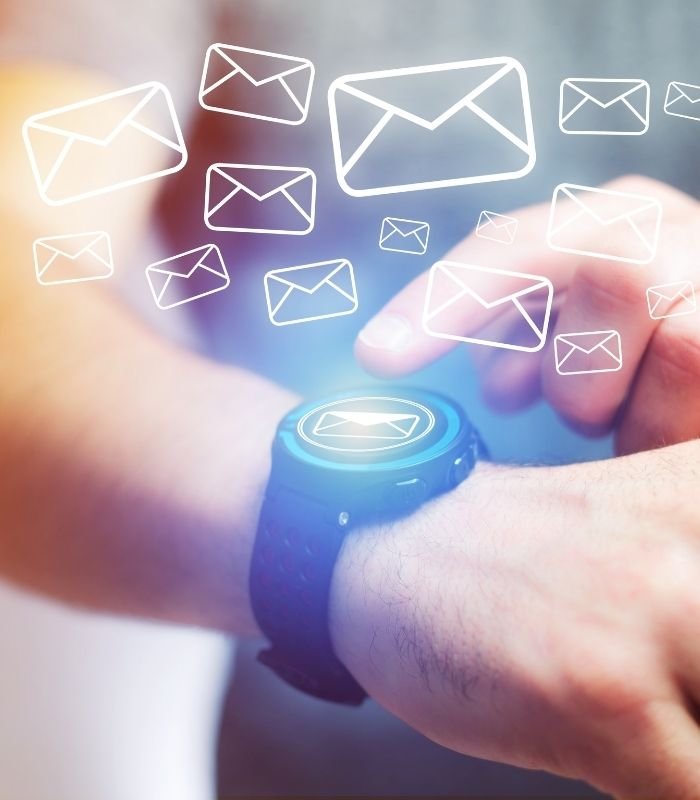 As time passes, we see many updates coming out in the smartwatch sector. With the technological updates, smartwatches have become part of smartphones already. They can monitor your health, take photos, track your workout, and show various app notifications from your smartphone.
However, so many options are available that customers are often confused about which one to purchase. This article will talk about the best smartwatch for email notifications.
What are Email notifications?
When using our smartwatch, we need to pair it with our smartphone via Bluetooth or WiFi for various functionalities. When we pair the both, our smartwatch can receive various notifications from various apps on our smartphone. For instance, we can get notifications from the calendar, Meta, Whatsapp, Skype, email, etc.
When we get a notification for each email we receive on our smartwatch from our smartphone, that is what we call 'email notification.'
We will begin our list with Thor 6 from Zeblaze. Thor 6 is the first Helio 22 Octa-core 4G smartwatch in the world. Thor 5 runs Android 10 at its core with 4 GB RAM and 64 GB ROM. It has good battery life. 1.6" round IPS touch display with 400 X 400 resolution.
It has an 830 mAh battery, ceramic bezel with premium design, face unlock, 5 MP dual camera, GPS, sports tracking, and various app notifications, including email notifications. Besides, Thor 6 has a heart rate sensor and many more. In short, it is fully packed with features to give you an exciting day full of activities.
This is the second in the Thor series. The Thor 5 has two sets of chips - the main processor is a quad-core MTK 6739 that carries the main load, and the second one is a low power consuming Nordic 52840 chipset. You can either use it in smartwatch mode or a lower power consuming wristband mode. Thor 5 has a fully round 1.39" 454 x 454 AMOLED touch screen, 2 GB RAM, and 32 GB ROM. With this hardware, your apps will run very smoothly. There is an 8 MP camera at the front. You can take and place calls, connect to WiFi, and even insert a sim card.
Thor 5 has a precision GPS, heart rate monitor, and various sports-related tracking sensors. You will get weather reading and all the notifications, including email notifications, from your smartphone.
After Zeblaze, it is time to take a look at the top-of-the-line smartwatches from Amazfit. First in the line is GTR 3 Pro. This smartwatch has made a lot of things easier for you. GTR 3 Pro's body is made from aircraft-level aluminum alloy. It comes with a leather strap which can be changed to other options. With beautiful design and over a hundred different watch faces, you can change the look of your smartwatch every day. A beautiful 1.45" AMOLED display with a high refresh rate lets you see better under sunlight and in the dark. It has 2.3 GB of storage to save your favorite songs or music.
GTR 3 Pro offers an enormous battery life of 12 in normal mode and 6 days in heavy mode. It has excellent health and fitness features like heart rate monitor, sleep tracking, sports tracking, blood oxygen level, etc. You can get email notifications on the smartwatch screen as well.
When it comes to health with a style of its own, we have to talk about Amazfit GTS 3. It has a rectangular shape, a big 1.75" AMOLED display in Ultra HD, 5 ATM water resistance, and many more features. It is light and is made for the people who love to be active throughout the day.
GTS 3 is amazing at tracking your overall health with a heart rate sensor, blood oxygen level, sleep tracking, and sleep sensors. You will also get a PAI assessment for your health. The ladies can check on their menstrual cycle as well. The GTS 3 is excellent in assisting you with your workout with GPS, pedometer, and more. The battery is amazing - 12 days of support in normal use. With heavy use, you will still get by a whole week, but it will come down to only 20 hours with continuous GPS. However, a battery saver mode will take you about three weeks to completely drain the battery. GTS 3 has so much to offer.
'Military Grade' - the phrase sounds really tough, but Amazfit T-Rex has brought this phrase to life with its genuine military-grade ruggedness. The first amazing thing is a 12-month warranty on this smartwatch. T-Rex will strike you with surprise if you are a swimmer with its 10 ATM water resistance which is good for a nice swim in the pool. The HD 1.3" AMOLED display has anti-fingerprint and tempered glass protection.
T-Rex is loaded with features like GPS, heartbeat sensor, blood oxygen saturation level, sleep quality, and BioTracker 2 will keep track of any subtle changes in your body. You will also get a PAI measurement for your health. Finally, you will get all the notifications from your smartphone, including Email notifications.
If you are looking for a smartwatch that gives an elegant and classy vibe, Huawei Watch GT 3 is for you. The most striking feature of the GT 3 is that it has battery life support for two weeks. It has a 3D curved display, a simple body, and a glossy finish. GT 3 boasts a super accurate monitor for GPS, heartbeats, blood oxygen level, wireless charging, sleep monitor, taking or placing calls, etc.
GT 3 has everything you will ever need if you are a sports enthusiast. The GT 3 is made to face unexpected terrain and weather. You can wear your GT 3 in extreme cold or hot weather. It has an AI running coach for you as well. GT 3 can link up with various workout equipment and provide you data. Besides, you will also get an email notification from your smartphone.
Samsung is a name that does not need an introduction in the world of 21st-century consumer products. The tech giant from South Korea has entered the hearts of millions worldwide with its smartphones and smartwatches. The recent addition of Galaxy Watch 4 Classic to their existing line of smartwatches.
Galaxy Watch 4 Classic has a round shape, 1.4" AMOLED display, and an IP68 and 5 ATM rating. It comes with 1.5 GB of RAM and 16 GB of ROM, and a wireless charger. You can measure your body composition and heart rate and track your workout progress. You can get all the email notifications from your smartphone to your Samsung Watch 4 classic.
We will now discuss another exclusive smartwatch from Oneplus - Oneplus Watch Cyberpunk 2077 edition. Although the name seems a bit weird, why they named it 2077 is unknown to us. However, the limited edition watch is pretty cool. For our convenience, we will call it Cyberpunk 2077.
The features are very common for its price range with dust and 5 ATM water resistance, round shape body and AMOLED 1.39" touchscreen display, 1 GB of RAM, and 4 GB of ROM. The main show is the charging dock. The watch holder is uniquely designed to surprise everyone and make you proud. Everything about the watch is very futuristic - the boot animation, the charging animation, the design of the straps, and the color - everything gives a feel of untold mystery. It is more about design than the feature that attracts your eyes. You will get email notifications on this smartwatch as well.
So we have come to the end of the article. We have listed some very recently released smartwatches for you to choose from. They are all top-of-the-line smartwatches, and you cannot be at a loss by choosing one and not the others. Each of them is equally fantastic. Good luck with your shopping!!