What's the best watch for you? Apple Watch 7 vs. Samsung Galaxy Watch 4?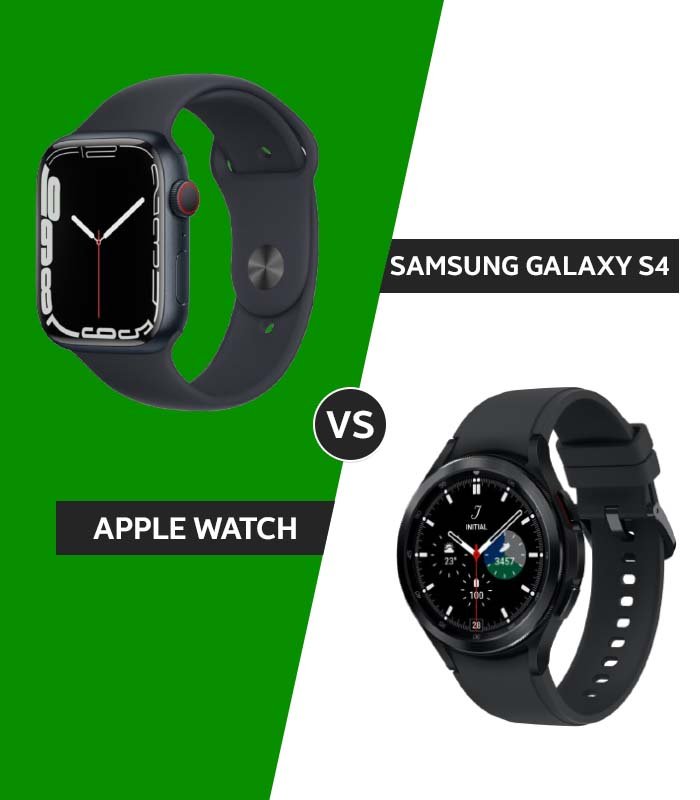 Today we have come to you with the two most popular top-of-the-line smartwatches ever. On one side we have the Apple Watch 7, and on the other side, we have the Samsung Galaxy Watch 4. With either one of them, you cannot go wrong, but just for the sake of the fans, we will put them head to head in this little presentation. First, we begin with Apple and then move to Samsung.
Apple is always known for its brand value and products. It is the mark of status and class. With the Apple Watch 7, you will be proud to show it off to others, and there are reasons behind that.
The first thing you will notice in this watch is the massive full-screen display. It now has more screen area. This marvelous engineering and design feat was possible without having to increase the dimension of the smartwatch. The new design has 40 percent fewer borders.
Now, with a bigger screen, your eyes will hurt less and you can even type with ease. There is now a keyboard that allows swiping instead of typing. It has a retina display with an 'always-on' feature. In the indoors, the display is 70 percent brighter.
Apple advertises this watch as the most durable in the market. It is WR50 water/swim-proof, dust and cracks resistant. The clock is very sturdy all around.
The future of health tracking is here with the Apple watch 7. Now you can measure Oxygen levels in your blood, do ECG, find the heart rate, sleep monitor, etc. Not just that it can track your workout too.
This smartwatch takes 30 percent less time to fully charge and tracks your sleep for about eight hours straight. You can now take calls and send messages via the Apple watch 7. You do not have to have your phone on you all the time. Because you can make cellular calls. You can even make your payment with Apple watch 7.
In short, with Apple watch 7 you can make your life smarter and concise in every aspect.
If you are not from another world and are using a smartphone, you can not know about Samsung. Galaxy watch 4 has explosive features. Let us get to it without any delay.
Fitness is the main attraction of smartwatches that we buy. Galaxy watch 4 brings our ' body composition' to the mix. According to the official website, this is the first smartwatch in the world to have 'body composition' as one of the main features. Thanks to its BioActive sensor it can now provide you information about your skeletal muscle, body fat, body water, etc. so that you can plan your fitness. With a live feed, you can track your exercise partners and compete for better results.
In this journey, you are not alone, and Galaxy watch 4 is here to remind you of that. It has settings for over 90 types of workouts. Just select one and start. The Galaxy Watch 4 will track your steps, count your calories and heart beat. With GPS tracking you can see how far you have gone.
Like all other top-of-the-line smartwatches Galaxy watch 4 can help you do ECG and measure your blood pressure. It can track the level of oxygen in your blood and the pattern of your snoring.
It has a beautiful eye-catching design - iconic, seamless, and sleek. It has aluminum armor and a metallic frame. You can select your straps from a big collection according to your color preference and style. The straps are comfortable, well-fitting, and made from high-quality material. They are also resistant to sweat. You can customize your watch with a new watch face everyday. Above all, it is compatible with a range of smartphones.
These smartwatches are from two different worlds. One is Apple, and the other one is Samsung. If you are an Apple user, you cannot go wrong with the Apple watch. On the other hand, the loyal customers of Samsung do not want to move to a different device which is also very expensive. It costs almost half of what the Apple Watch 7 costs.
Both the watches are excellent and unbeatable on their terms. You cannot just go wrong with anyone of them.