Buy HAYLOU GT1 2022 Earbuds for Android/iOS Online At Best Price In Bangladesh At Techdenbd.com
HAYLOU GT1 2022
True Wireless Earbuds
Model- Haylou GT1 2022
Bluetooth version-Bluetooth 5.2
Communication range-10m (open environment without obstacles)
Audio codecs-SBC, AAC
Supported protocols-A2DP, AVRCP, HFP, HSP
Battery life-Approx. 20 hours with charging case
Charging case battery capacity-310mAh
Charging time of the charging case-Approx. 2 hours
Earphone battery capacity-35mAh
Charging time of the earphone-Approx. 1.5 hours
Charging interface-Type-C
Studio Performance
Unmatched Comfort
Game low latency
Bluetooth 5.2
AI call noise cancellation
Anti-slip ear holders
HD audio codec
3.9g compact body

Bluetooth 5.2
New generation chip

HD audio codec
Stunning sound quality

Game mode
Enjoy low latency

3.9g compact body
Anti-slip silicone ear holder

Smart call noise cancellation
AI neural network noise cancellation algorithm

Powerful energy
20H long battery life
State-of-the-art Design
Snug and Secure Fit
Enjoy Wireless Freedom
Advanced Bluetooth 5.2
All-new Bluetooth 5.2 chip brings a more stable connection, faster transmission, and less background noise. Enjoy wireless freedom and escape into your music!

Lower power consumption

Higher speed

Less background noise
Strong anti-interference
Pair with Ease
Dual-master Chip
The Haylou GT1 2022 earbuds will automatically connect when taken out from the charging case. With a dual-master design, you can freely switch between mono and stereo modes.

Quick connection

Mono/stereo mode

Two masters
Seamless Switch
Low Latency Mode
Triple tap the right earbud to enable ultra-low latency mode. Easily slay the enemy without being noticed and dominate the battlefield!
Hear Every Detail
Feel Your Tunes
New Level of Immersion
Incredible Sound Quality
The Haylou GT1 2022 earbuds can offer a wider soundstage, more powerful bass, and punchy highs with a built-in Hi-Fi speaker and HD audio codec.

7.2mm composite diaphragm dynamic driver

HD audio codec
Enjoy Free Chat
AI Call Noise Cancellation
DNN (Deep Neural Network) algorithm can simulate the human hearing system and intelligently identify human voice and environmental noise for clear calls.
Music all day long
Impressive battery life
Music from Daylight to Sunset
Compact Charging Case, Extended Battery Life
Easily flip to open the charging case with only one hand. It can last up to about 20 hours, making sure you always have some music to lighten your routine.
5H
Single playback
20H
Total battery life
Elaborated Design for Added Comfort
Adorable and Lovely Decoration
Delicate Conch Design
The Haylou GT1 2022 earbuds are designed to look like a conch - a lovely decoration on your ears. Silicone ear holders are anti-slip, soft, and stable to wear.
Portable and Lightweight
Unique Magnetic Body
A single earbud weighs only 3.9g. The ergonomic design fits the ear canals perfectly and is lightweight and comfortable. The unique magnetic design of the earbuds is convenient for storage.
* Three sizes of ear tips (S/M/L) are available. M size has been installed before shipment.
Tailored to You
Smart Touch Control
Easily switch between music and calls. Triple tap right earbud to enable low-latency game mode. Also supports the wake-up voice assistant feature.

Answer/Hang up call
Double tap either earbud

Reject call
Press either earbud for 1.5s

Play/Pause
Tap either earbud

Previous/Next track
Double tap left/right earbud

Summon voice assistant
Triple tap left earbud

Low latency mode
Triple tap right earbud
More features
Classic colors: Black / White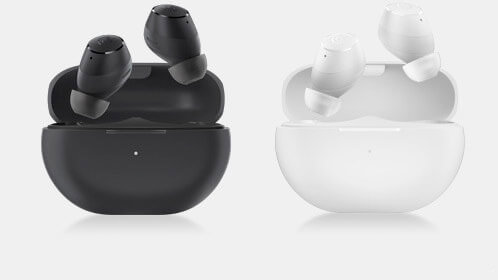 Compatible with Android & iOS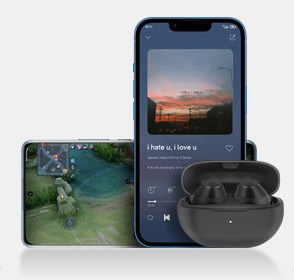 Type-C charging interface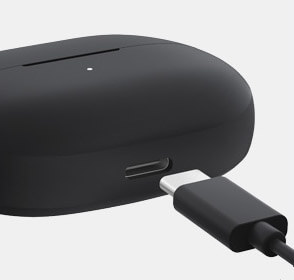 Tech Den is one of the best gadget shops in Bangladesh and offers HAYLOU GT1 2022 at the best price which is very budget-friendly. Hope you are a smartwatch lover and now you are in the right place at Tech Den to buy your best choice. Place your Order and get cash on delivery or visit our display outlet to grab your best smartwatch directly. Follow us on Facebook for regular updates and Subscribe to our YouTube channel for reviews.
To Watch HAYLOU GT1 2022 Review Video Please Subscribe Review Plaza YouTube channel.
Buy the HAYLOU GT1 2022 and Enjoy the best quality smartwatch.
Thanks for happy shopping with Tech Den.